All training sessions are based on the training manual developed by ACCORD and COI Network partners.

Understanding of COI

COI is understood as information used in procedures that assess claims of individuals to refugee status or other forms of international protection. It should help to answer questions by decision-makers and legal advisers about the political, human rights, cultural, economic and social situation as well as the humanitarian situation in countries of origin.
Training Manual
You want to read more about researching country of origin information? In October 2013, ACCORD published a revised edition of the training manual on the methodology and quality standards of COI research.
 You can download an electronic version of the new edition below (PDF):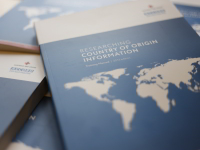 For more on COI research methodologies and quality standards, visit our blog on ecoi.net.
For the previous (2004) edition of the training manual (available in English, German, French, Italian, Romanian, Russian and Spanish), see this page: COI Training manual, 2004 edition.